YOU, THE PILGRIM
Welcome to Verona, the Small Jerusalem!
Are you ready to start your modern pilgrimage? Verona has been considered a Small Jerusalem for centuries, and now you, too, can live this new, spiritually rich experience.
Following the 3 itineraries created by Verona Minor Hierusalem, you will be able to experience some fundamental moments in the spiritual history of Verona, as the many pilgrims who walked the same routes before you did. Among the most significant things to see:
the thousands of relics preserved in the church of Santa Maria del Paradiso, a testimony of devotion
the church of Santi Siro e Libera, built in the place where the first Eucharist was celebrated in Verona,
the ancient shrine of two hermit virgin saints, in the church of Santa Teuteria and Tosca
the hostel for pilgrims and Crusaders returning from the Holy Land, in Santa Toscana.
You can discover 17 churches otherwise difficult to visit: here, you will be welcomed by our volunteers, who will involve you in the history and art of each church and will guide you in your spiritual journey. Remember to ask for the credential or the map, where you will find information on all our churches and get the stamps that will be the proof of your visit.
In addition to the itineraries that can be followed independently, in whole or in part, Verona Minor Hierusalem also organizes urban pilgrimages (link con àncora a sezione Accoglienza) , guided by experts who will offer participants precious cultural and spiritual insights. If you want to  discover the city with a pilgrim's pace and different eyes, check our upcoming events and sign up for free.
For further information, group visits or guided tours, please email segreteria@veronaminorhierusalem.it  and we will reply as soon as possible.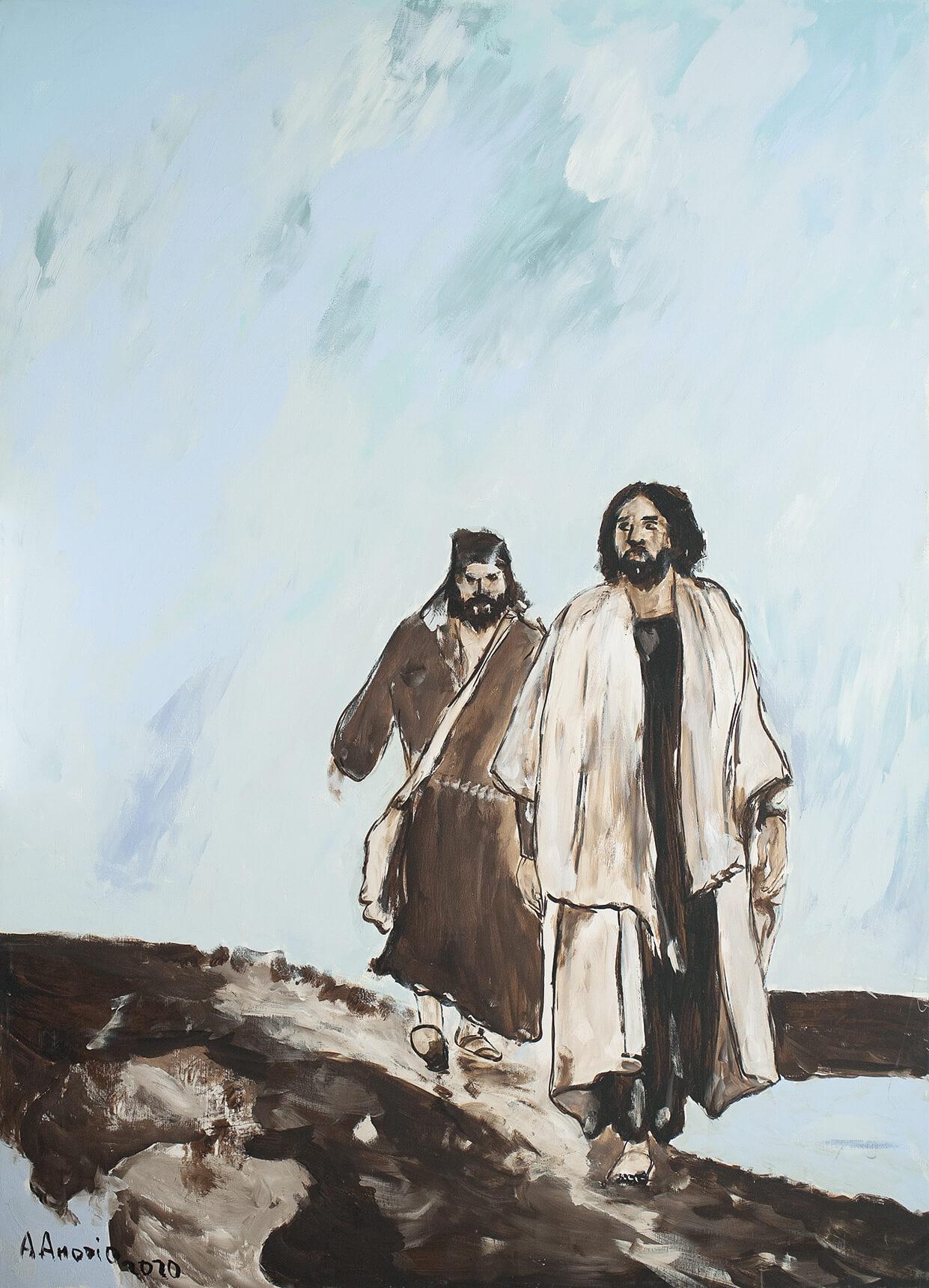 Il viaggio di Ulisse e Abramo
L'uomo è un viandante, è in perenne movimento, interiore ed esteriore (homo viator). Prendiamo a prestito due immagini della nostra società occidentale che rappresentano questa dimensione del cuore: Ulisse nel suo viaggio affronta l'ignoto con l'intelligenza, Abramo nel suo viaggio affronta l'ignoto con la fede.
Abbiamo scelto Ulisse e Abramo come compagni di viaggio. Ci aiutano a entrare in profondità, nel viaggio del cuore. Come? Immaginiamo che si incontrino lungo una strada, immaginiamoli insieme. L'esercizio di immaginazione è facilitato dal contributo di un artista, Antonio Amodio, che si è lasciato ispirare da questo incontro, da questi due colossi che hanno segnato in modo indelebile la nostra storia europea e non solo. 
I due personaggi imboccano una medesima strada, pur provenendo da tappe diverse. I loro sguardi sono quelli di chi cammina: Abramo, dietro, con la sua bisaccia da pellegrino sembra dover prestare attenzione ai passi; Ulisse, un passo avanti, esita un attimo rapito da qualcosa che lo spinge a guardare fuori dal dipinto.
La loro non sembra una semplice passeggiata. Dai piedi, alle mani, alla postura il loro è un corpo in movimento. Sono in viaggio, hanno una meta. Forse non sono pienamente consapevoli che il loro è un ritorno, un ritorno a casa. Quello che per Ulisse è il desiderio di ritornare nella città, diventa per Abramo il desiderio di una patria definitiva, nella pace. Che si chiami Gerusalemme, che si chiami Itaca si tratta sempre di una città ideale, sintomo interiore del desiderio di tornare alla patria celeste.
Lo spettatore potrà osservare la compresenza di tre elementi fondamentali: terra, acqua e cielo (rimando ai tre itinerari della Fondazione Verona Minor Hierusalem). Le proporzioni sono importanti: i due viandanti sono piccoli eppure ben ambientati nel mondo che attraversano. Abramo spesso ha avuto a che fare con il cielo, con l'incommensurabilità della volta celeste, la cui ampiezza non si riesce a misurare. Ulisse spesso ha avuto a che fare con l'acqua, con tutti i rischi che comporta ogni navigazione e le avventure che non gli sono mancate ad ogni sbarco.
Le due strade si incontrano, la terra offre occasioni per generare crocevia. Sarà l'occasione per incontrarsi? Il cammino sorprende soprattutto per gli incontri, sempre inediti e pieni di sorpresa. La strada è sintesi, è ciò che unisce tutto!